Postcard From...
Every week, I interview a different traveller about their latest or favourite trip. Want to take part? Contact me...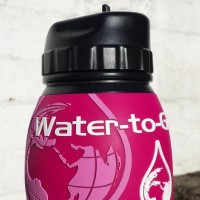 I review the Water-To-Go Filtration Bottle. Instant, on the go water filtration making any water source safe – this is a must-pack piece of backpacker kit…
Emily Luxton - Travel Blogger Extraordinare!
Emily Luxton is a writer, blogger and travel enthusiast from the south coast of England. Her blog, www.emilyluxton.co.uk, blends her own narrative travel stories with reviews and how-to guides, as well as the popular weekly interview feature Postcard From. Emily's latest online venture, BackpackSouthAmerica.com, is an in-depth guide to travelling South America on a backpacker budget, and includes reviews, informative guides, hiking and walking routes, and packing lists. Emily's work has been published in many online publications, and she has won numerous travel writing competitions – including Wanderlust Magazine's Travel Blog of the Year. So far, Emily has travelled to 15 countries, most recently completing a five month trip around South America, and favours slow, long-term travel over collecting passport stamps.