Why I Blog… My Story
When I was about sixteen years old, I decided I wanted to be a travel writer. Since then, it's been a lifelong dream. But, over the years, things went a little off track – as they often do. A lack of self belief, a lot of university debt, a few other devastating life changes and far too many overwhelming fears of the world, led to me ignoring those dreams until they were almost forgotten. Luckily, a friend who believed in me much more than I did gave me a book on travel writing for my birthday a few years ago, and I – somewhat timidly – launched this travel blog as an experiment, to see if I was good enough.
The little experiment paid off! It's been three years since I started blogging, and the journey has been a long one. Over the years I've gathered a surprisingly large following; learnt a huge amount about blogging, SEO, marketing and w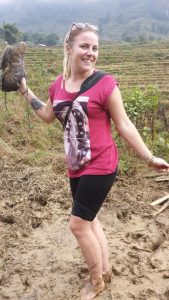 ho knows what else; grown in self confidence and as a writer; made new friends; and – most importantly – travelled as much as I could. At the beginning of 2014, I quit my 'day job' to travel and blog full time with my partner, Sam, starting with a five month trip to South America – and I've never looked back. It's been one hell of a journey, but I'm grateful for every single second – even the mishaps, of which there have been hundreds – and I hope that above all else, my blog shows other people in my position that it is so important to believe in yourself.
If there's something you want to do, whether it's travel the world, make it in your dream career, or anything else, it all starts with you. If I'd never taken those first scary steps – starting the blog, buying those plane tickets, quitting my job – I wouldn't be where I am now. I'm by no means successful yet, but I am getting there – and I hope this blog shows other people that it's never too late to achieve your dreams. The only thing holding you back is you.
PS – don't miss my About Me and Portfolio pages.
Blog Values
Slow, overland travel. Whenever possible, I prefer to take the overland route. Travel is all about the journey. Trains, buses, motorbikes, boats, horses, bikes, cars, feet… all those journeys leave me with a story to tell. Flying doesn't.
It's not a stamp collection. Less is more when travelling. Spend longer in each country, see more of each place. Too many people pack thirty odd countries into a one year round the world trip, but that's not for me. I don't travel for the passport stamps or to tick items off a list – I value travel for it's own sake, and I want to spend as long as possible in each destination, to truly get to know it.
Backpacking is best. At heart, I'll always be a backpacker. Packing light, travelling on a budget, staying in hostels, meeting new people, and doing it all for as long as possible – that's the best way to do it.
Luxury is nice, too. But, the above doesn't mean that I turn my nose up at less backpacker-y experiences. In fact, a pretty large section of this blog is dedicated to luxury travel: spas, salons, fancy hotels, first class train travel, and any other upmarket experiences I can sniff out.
No discrimination. Travel is all about exactly that; travelling. In my quest to travel as often and as far as possible, I'll visit anywhere and everywhere I can. When it comes to destination, I have no particular preference – any climate, and scenery, any culture, I'll (almost) always find something to love.
Learning to brave. As a self-described fatally shy introvert, a collector of phobias, and an all-round general wuss, I wasn't the obvious candidate for a life of travel. Over the past year, I've faced more fears than I can count, and always come away a better person for it – something that's become one of the major themes of many of my blog posts.
So, that's my travel style. If any or all of those values resonate with you, then you'll probably enjoy a few of my blog posts. Even if they don't, hopefully you'll enjoy exploring the world through my eyes and those of my Postcard From guests.
What This Blog Is
Personal – First and foremost, this is a personal travel blog – a place for me to share narrative-style travelogue posts about my adventures and experiences across the world. You'll find those posts under the My Travel Stories section, along with more personal posts about me.
Photography – As a photography lover, I also like to pack this blog with photography – my own, and others'. There are gallery posts containing my best shots from certain particularly photogenic destinations, occasional travel photography competitions, and posts about photography in general.
Reviews and information – Having travelled a fair bit now, and in various different styles, I've picked up quite a lot of experience. So, whenever possible I like to share my expertise in the form of how-to guides, reviews, packing tips and more.
Postcard From – In an effort to take this blog to far more destinations than I could ever hope to visit myself, fuel my wanderlust, meet other travellers, and explore more of the world through the experiences of others, I host a weekly feature called Postcard From – in which I interview a fellow traveller about a recent trip. Postcard From has been to every continent in the world – even Antarctica – and has visited hundreds of countries. Get in touch if you'd like to take part!
Disclaimers
This site occasionally accepts sponsored posts and other adverts, usually in the guest posts category. I hope that this does not impact on the content in any way, but if you spot a problem please don't hesitate to let me know.
Affiliate links are used throughout this blog. This means that I'll earn a small commission on any sales generated by people clicking on certain links on my site. I only work with brands that I have experience with – no affiliate links are included unless I am actually recommending that product. If you decide to purchase something I've recommended, please support me by clicking the link on my site!
Finally, on occasion I will accept a free product or experience (eg a night at a hotel) in exchange for a review on my site. That never, ever effects my honesty or the accuracy of my review – I promise!
Recommendations for Emily Luxton Travel Blog
Above all, I hope you enjoy my site! If you want to know more, please comment here or contact me, and please don't forget to follow me using the link in the left sidebar, or on social media. I can't wait to connect!